Direct Vision Standard 2024
From October 2024, all vehicles rated 0, 1 or 2 star will need to be fitted with the new Progressive Safe System recommended by the Transport for London.
The Direct Vision Standard was developed by the Mayor of London as part of his Vision Zero initiative to ultimately eliminate all deaths and serious injuries on London's transport network. An enhancement has been made to the current DVS Safe System with the introduction of the Progressive Safe System, PSS, from October 2024.
Over a 3 year period in inner London, 70% of cyclists fatalities were caused due to HGV's poor vision. Since 2019, fatal collisions involving HGVS where vision was a contributing factor has halved. To further improve the safety of all road users, HGVs over 12 tonnes will need to have a minimum of three-star rating to operate in Greater London. Although currently you only need a one star to obtain a DVS safety permit, this will rise and by October 2024 you will need to update your vehicles.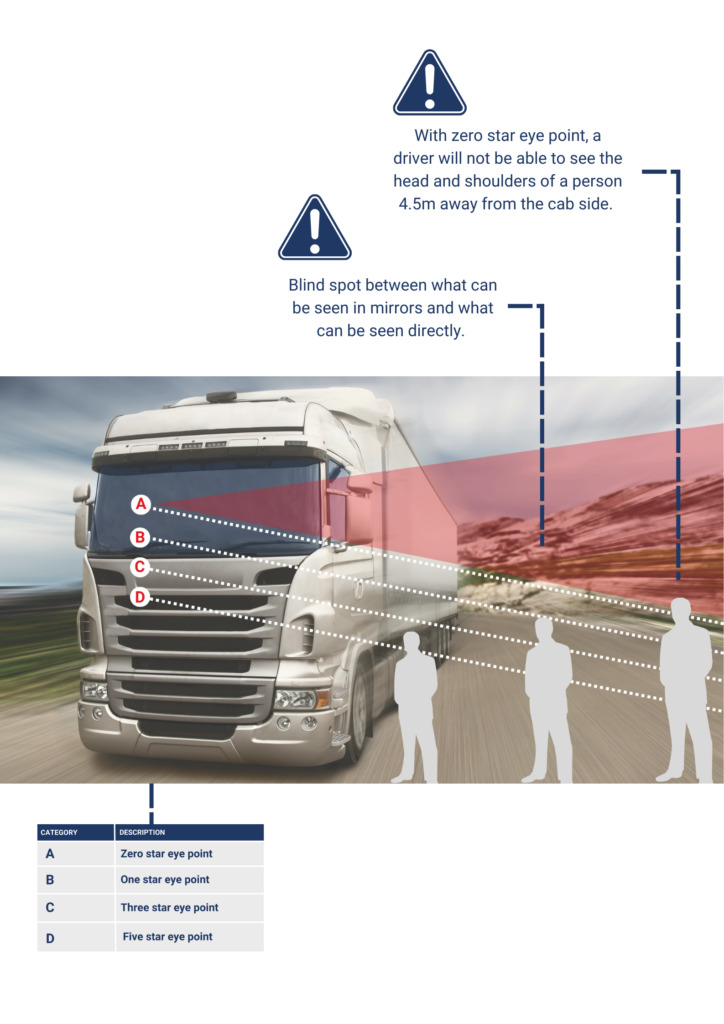 How can Simplytrak help?
Simplytraks safe system kit can improve driver's direct vision from a vehicles cab with our full range of vehicle solutions.
DVS Safe System Includes:
Near-Side 1080P AI Intelligent Pedestrian Detection Camera
Front 1080P AI Intelligent Pedestrian Detection Camera
Quad HD Monitor with Auto Switching Function
Audible Left Turn Alarm
Internal Audible "Pedestrian Detected" Alarm
Speed and Indicator Module
4-Minute Delay Switch for Panels
Contact a member of our team if you want to hear more options on how we can help or are struggling with the new regulations.
Please call us at Tel: +44 (0)1430 879197 or email our team at enquiries@simplytrak.com
Founded in 2005, Yorkshire-based Simplytrak's fleet management and connected services solutions have been used to optimise the operations of many customers globally.
Founder and director Andrew Johnson and managing director Ian Wood spoke to Natalie Middleton from Fleet World magazine about its continually evolving solutions and latest innovations to support fleets.
Operating from a small village in East Yorkshire and serving clients globally, this telematics company has been creating intelligent and innovative solutions for fleet managers for almost 20 years now. In the UK alone, clients include Ticketmaster, Wickes, Amazon Delivery Service Partner ATA Couriers and Practical Car and Van Hire, as well as regional Yorkshire organisations, such as Hull City Council.
During Simplytrak's time in business, the face of the fleet sector has changed dramatically; from the types of vehicles run through to the operational nature of fleets, particularly driven by the pandemic.
A pioneer in providing safety solutions with remote immobilisation-based technologies and camera telematics to increase vehicle and driver security, Simplytrak's latest innovation has been designed in partnership with the world's largest courier operator.
Intended to put an end to opportunist and organised vehicle theft, the company recently launched its latest innovation, SimplySecure. Developed by a team of vehicle security and telematics experts on the back of the success of Simplytrak's remote immobilisation solution, SimplySecure not only 'auto-immobilises' a driver's vehicle but also educates the driver to remove the keys from the ignition every single time, eliminating the risk of theft and avoiding negated insurance claims.
"Artificial Intelligence and Machine-to-Machine Learning have been such buzzwords in our industry for some time now. With SimplySecure, we are implementing these concepts in one solution," explains Ian Wood, who joined the company in 2015 as business development manager and became managing director in 2019. "Our team has developed a system that talks to the vehicle, enabling it to make its own decision as to whether the vehicle is immobilised."
Explaining the background to the solution, Wood continues: "We were approached by one of the largest courier companies in the world, which was expanding rapidly – not least due to the first Covid-19 lockdown. They were looking at securing their vehicles when delivering parcels. We were asked to build on our existing security system specialising in the remote immobilisation of vehicles. Now we've gone down the route of talking to the vehicle's own OEM system and integrating it with our tracking systems – using the machine's artificial intelligence. Not only is SimplySecure a security and driver training device, it can provide all the other features a tracking system does such as monitoring fuel spend and mileage as well as geo-fencing."
Wood says being a driver training tool makes SimplySecure relevant for fleet managers across industries by enabling them to create accurate risk profiles; both for entire fleets as well as individual drivers.
"In our client's case, vehicles are generally stolen because drivers have a certain length of time to drop parcels off and they leave the engines running and the keys in the ignition. What our system does is, as soon as the driver opens the door, it immobilises the vehicle, whether or not the keys are left in the ignition or not to secure it. The driver then has to contact the head office to reset the vehicle."
It's a rapidly expanding area too, as the pandemic puts the focus on home shopping and an increased need for home deliveries.
A specialist approach for mixed fleets
Another area of specialism is van operators with mixed fleets, where relying on the data from the OEM's own connected system becomes more complicated as operators have to integrate vehicles from different makes.
Andrew Johnson, who founded Simplytrak almost 20 years ago, says: "Most companies out there will have mixed fleets. And don't want six different monitoring systems to monitor them. What they need is one system that monitors everything, so this is another area where we excel in."
A further development that the company is working on will bring a solution to the fast-growing number of van fleets turning to electric vehicles.
Johnson outlines: "As electric vehicles come into the mainstream and companies start including them on their fleets, the drivers are going to need to take them home and charge them overnight.
"Now obviously they're going to have to refund the electricity used at home, so our system will monitor how much electricity has been put into the vehicle so that companies can reimburse the drivers correctly.
An all-in-one solution
Regardless of what fleet managers are looking for, from basic tracking to cameras, immobilisation, and security, Simplytrak says one of its main USPs is that it can offer it all.
The business has a dedicated team of software and hardware integrators that address the requirements of more niche and specialist customers, creating bespoke solutions.
Ian Wood explains: "The good thing with Simplytrak is that we can build around our bespoke system, from a standard tracking system to a complete system built around a fleet's needs.
"For many fleets, if they want a Direct Vision Standard (DVS) system for instance, they'll go to a certain company to supply that. If they want a camera solution, they'll go to another company. The same for a security solution.
"Simplytrak can offer all of that from one platform. For instance, one of our largest clients has an immobilisation solution for driver ID; meaning before a driver can start the vehicle, they have to tap a dedicated key fob, which means that drivers can be restricted to which vehicles they can or cannot drive. They also receive remote tachograph information and have a full 360-degree camera solution to meet the requirements of London's DVS."
Johnson adds: "Thanks to our built-in system, all our solutions are connected. If a fleet has our camera solutions, they can access the data and footage through our platform. Regardless of what a fleet adds to our system, it all goes through that one single platform. So, you can now see what the driver is seeing from dashboard data to what the driver is actually seeing through the windscreen and to the rear."
You can read the Fleet World article here.
With Christmas just around the corner, more internet orders are being placed than ever before. Which means that even more delivery drivers are on the roads than usual to hopefully deliver everyone's presents in time for Christmas!
SimplySecure by Simplytrak is a bespoke solution designed to remove the risk of the increasing numbers of opportunist thefts within the courier and delivery industries. It was designed in association with Amazon Delivery Service Providers and is in use across an increasing number of courier fleets now. Regardless of whether you are the world's biggest parcel delivery company or a straightforward one-man owner driver, SimplySecure is the solution for you. Created to be both a driver training tool and, more substantively, a bulletproof security measure, the system makes busy courier vehicles impossible to steal.
The RAC state that since 2016 approximately 43,000 vans have been stolen – which works out at a whopping 24 vans per day in the UK alone! That was a major insurance risk that urgently needed addressing. Which is where Simplytrak came in.
Many of the vans in the RAC statistics will belong to the parcel delivery industry and the loss extends to much more than the vehicle itself. The average courier vehicle contains between £20K and £30K of parcel value when commencing its rounds. Which also means £20k-£30K of parcels needing reprovisioning and redelivering which is a colossal waste of resource across the board. Insurance for couriers was due to increase dramatically unless this is quickly addressed. Step up SimplySecure.
Delivery vans are always at their most vulnerable during routine parcel drops. Drivers, faced with ever shorter times to park and hand over the goods to customers, run to doorways often leaving the keys in the vehicle. Opportunists jump in and drive the vehicle short distances before offloading the goods into another van to ensure that onboard tracking devices are of little use in deterring these sort of crimes. The value of the goods often far exceeding the value of the vans.
Taking these parameters into account Simplytrak decided to create a solution to resolve this once and for all.
Once installed by Simplytrak engineers, the SimplySecure device will auto-immobilize the vehicle if a door is opened whilst the keys are left in the ignition – in any position, engine running or otherwise. In such an instance, the hazard lights will flash, and the horn will sound and the vehicle cannot be started or moved. This method is a major deterrent to potential thieves as it draws instant attention to the vulnerable vehicle. However, this is also a very effective driver training tool with drivers needing to call in to their office to have the vehicle re-mobilized and receive a ticking off by the dispatcher/fleet manager. The drivers quickly learn to avoid an awkward call to the office and the danger of vehicle and parcel theft rapidly dissolves. If, however, the driver successfully follows the correct procedure, removing the keys every time before opening the door, the vehicle will stay active and their delivery schedule can remain on track.
But SimplySecure doesn't stop there. The vehicle can also be immobilized remotely from the office with the click of a button and can, for owner drivers, be reactivated using a vehicle specific sequence of actions advised of at the time of install. In addition, the solution also offers a fully suite tracking and reporting solutions with real time vehicle information and turn by turn updates. This also allows the operations team to actively monitor a fleet of vehicles and assess/address any issues that arise making for an extremely efficient operation.
As a result of installing the SimplySecure system, companies can often see a reduction within their insurance policy due to the added level of vehicle security (prices will vary with providers) and insurance premiums kept in check by minimizing claims.
SimplySecure is also designed to work for any company that carries goods in the back of the vehicles:
Builders
Electricians / plumbers
Mobile auto mechanics
Service engineers
Tradesmen of any kind.
Contact us today to learn more about SimplySecure! You'll find us at Simplytrak.com
Simplytrak – saving Christmas once again.
The Market Weighton based company is fast growing its reputation for vehicle tracking and has impressed North Yorkshire's Rural Crime Division by going above and beyond for a victim of theft.
The tracking systems earnt the respect of The North Yorkshire Rural Crime Division after the system was used to track and locate a recently stolen quad bike.
Sergeant Arfan Rahouf from the North Yorkshire Rural Task Force was involved in the vehicle recovery operation and he commended the tracking software after being impressed by Simplytrak's speedy response and the softwares ability to pinpoint the stolen vehicles exact location. PC Arfan commented, "We received fantastic service from Simplytrak. The tracking kit enabled the team to locate, seize and recover the stolen quad within twenty-four hours."
Having previously been interviewed about rural vehicle crime, PC Rahouf commented that: "The problem with rural crime is it is not high enough up the agenda for people. If you take a quad bike from a farmer then that is their livelihood gone for a couple of days – if not weeks – until it can be retrieved or replaced and the impact of it is massive." Since the introduction of the Rural Task Force over three years ago, rural crime has fallen, however PC Rahouf stated that, "The force has seen an increase in farm and agricultural theft, in particular quad bike thefts." Which is where tracking and security systems come into play and can offer confidence to the rural community.
Talking about the incident and the systems capabilities, Ian Wood, Managing Director said: "Simplytrak supplies Platt Quads with the tracking system and software and in turn they supply vehicles to their network of customers with the added security of Simplytrak's tracking systems. Having originally purchased a quad fitted with a tracker from Platt's the vehicle was subsequently re-sold to a private customer and the system was later disabled. Unfortunately for the new owner, the vehicle was recently stolen and North Yorkshire Rural Crime Division contacted Simplytrak to enquire about the original tracking system installed and ascertain whether it could be reinstated. We quickly confirmed that we were able to reactivate the system to track the stolen bike and reacted quickly to the Police request. By re-enabling the tracker we were able to direct the police to the exact location of the stolen vehicle, where they were able to recover it quickly."
Ian goes on to say, "The tracker demonstrated its capabilities perfectly and impressed both the Officers involved in the quad's recovery and the private owner – who has now purchased the system for the rest of their fleet of vehicles. Rural vehicle crime is on the rise and it's great to know our system can support prevention and help to minimise crime by supporting tracking and vehicle retrieval which hopefully leads to subsequent criminal proceedings. In the past few years we have helped the police on a number of occasions and often finding one stolen vehicle leads to the location of quite a few more."
The private owner Helen, who has since gone on to purchase a range of Simplytrak tracking kits said, "Without having the Simplytrak tracker installed on our quad bike, we would have faced huge costs plus the price rise on insurance and the total inconvenience of having to replace the equipment. Thanks to Simplytrak we recovered the quad bike within around 12 hours of it being stolen."
Helen explained: "The yard break-in was frighteningly well-organised, we believe the thieves used drones to stake out the area and plan entry and exit points in advance. Within a 15 minute window they had cut down our fences, broken into our shed and wheeled the quad to a waiting horse trailer before making a quick getaway. We reported the crime to the Police but with no officers immediately available, or clues to go off it was looking incredibly unlikely that we would recover the quad. We remembered that the previous owner had a tracker fitted but we hadn't re-activated it in our name.The next morning we were able to get Simplytrak's details from the previous owner, and pass these on to the Police. Simplytrak immediately accessed the tracker and within a matter of minutes told the Police it's precise location. Officers were able to recover the quad that same day.
We are so thrilled to have got our quad bike back. Recovery would not have been possible without Simplytrak. We have already re-registered the tracker in our name and purchased several more units for all our other machines! We couldn't be more grateful for the fantastic service from Simplytrak."
Simplytrak's vehicle tracking systems enable fleet management operators to drive down costs and improve efficiency. With capabilities including live turn-by-turn tracking, geofencing and alerts the tracking solution allows companies to know exactly where their vehicles are at all times. The modular system also offers immobilisation features and witness and/or security cameras to further increase vehicle and driver security.
01. Keep Valuables Out of Sight
Often, vehicle theft occurs due to opportunists spotting a 'vulnerable vehicle'. Avoid leaving items such as wallets, mobile phones and luggage on display. If your vehicle has a portable navigation device, remove it from the windscreen and make sure to wipe away the suction marks left by the mount. If you tend to hide items under the seat or glove compartment, chances are someone could have seen you, try to take items with you where possible or place them in the boot of the vehicle before making your journey.
02. Park Your Vehicle Responsibly
Recent data from Co-op Insurance revealed that nine of the ten hotspots for car crime in the UK are located in the capital, including the exclusive borough of Kensington and Chelsea. With this, it's important you choose your parking space smartly. Search for areas that are well lit with high footfall. Even opportunists won't take the risk for a small reward if they believe they are being watched.
03. Lock Doors And Windows
This may seem obvious, but always ensure both doors and windows are locked. It doesn't matter if you're popping to the shop or parked outside your own home, its a simple prevention method that could go a long way. If your vehicle has a sunroof, ensure this is closed too, and if your drive a convertible, close the soft-top.

04. Install A Tracker
Technology plays a vital role in keeping your pride and joy safe. The use of vehicle trackers has fast become the most successful way of monitoring and securing your vehicle or fleet. Simplytrak can pinpoint your vehicle to the exact location, whilst in a remote location and have quickly become one the market leaders in automotive security with our excellent solutions and features. Our vehicle tracking system comes with standard features that enable you to drive down costs and improve efficiency. We also offer immobilisation features and cameras to increase vehicle and driver security.
05. Simplytrak's Driver Training System – SimplySecure
Vehicle theft using the keys will negate your insurance. Simplytrak's new SimplySecure system aims to prevent fleet drivers from ever leaving the keys in the ignition, even during quick drops. Whenever the driver's door is opened with the keys still in the ignition, the horn will sound, hazard lights will flash and the vehicle is instantly immobilised. The vehicle cannot be stolen. To mobilise the vehicle again, the driver must contact head office who are able to re-mobilise the vehicle remotely.
SimplySecure Uses TurnKey Technology To:
Mitigate The Risk Of Theft By Installing a Tracking device With a Remote Immobilisation Option
Allowing You To Control When a Vehicle Gets Used, And By Who
Know The Exact Location, With Alerts When a Vehicle Leaves Pre-Set Boundaries (Geofencing)
SimplySecure's Driver Training System Can Help Remove Accidental Theft Caused By Keys Being Left In The Vehicle During Parcel Deliveries etc.
Contact us today to learn more about protecting your vehicle!
Since the initial introduction of our remote immobilisation solution in 2018, Simplytrak have enabled clients across the country to remotely immobilise vehicles from the ease of their palms. Using either desktop or hand-held devices, the immobilisation solution was initially created for client Practical Car & Van Rental, supporting them in their battle to reduce hire-vehicle thefts. This systems success led Simplytrak to become Practical Car & Van Rental's number one security supplier and helped recover a multitude of stolen vehicles over the years.
Invigorated by the success of Simplytrak's remote immobilisation solution, our team of vehicle security experts set out to develop a system that would further support both B2B and B2C clients regardless of vehicle type or usage.

Now proudly working with the world's largest courier operator, the Simplytrak team have developed a solution that not only 'auto-immobilises' a driver's vehicle but also educates the driver to remove the keys from the ignition every single time, eliminating the risk of theft and avoiding negated insurance claims.
So, how does it work?
If any door opens whilst the keys remain in the ignition, the horn will sound, hazard lights flash and the vehicle will immediately auto-immobilise. To free the vehicle, the driver must contact their office who re-mobilise the vehicle remotely. (In the case of private cars this function is also available via secure Simplytrak app).
But there's more. Even if a vehicles key is stolen or cloned and the vehicle taken, the vehicle can be remotely immobilised and tracked via smartphone/PC to its exact location. This makes for fast recovery and re-securing of your vehicle and cargo. And if a device is ever located and removed, the engine simply won't start without it.
With SimplySecure, it's no longer possible for a driver to simply forget to remove the keys every single time. The Simplytrak SimplySecure system works with the vehicles on-board computer systems, is easy to install, robust and reliable.
Stop losing your vehicles and contents through keys-in theft. It's time to outwit vehicle thieves. So SimplySecure out your vehicles today.
Call Simplytrak today on 01430 879197.